Temple Academy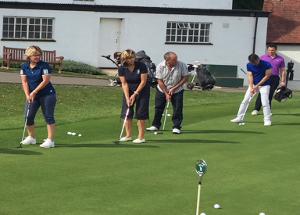 Temple's Academy membership starts with a new term this September and is aimed at beginners or those returning to the game. The Academy seeks to bridge the gap between lessons and membership by engaging with students and providing a taste of what Temple has to offer.
There are 3 Terms a year:
Term 1: September, October & November | Term 2: February and March | Term 3: April, May and June
Temple Academy Lessons are on Tuesdays at Noon for group one and one o'clock for group two.
Lesson Saturday (Noon)
1 15th February
2 22nd February
3 29th February
4 7th March
5 14th March
6 21st March
7 28th March
8 4th April
Lessons at Temple are delivered by our fully qualified PGA Professionals. Along with the golf lessons there will be fun golf activities, both inside and outside term-time, including coffee mornings and intro to rules sessions. For more details on Temple's Academy and Membership visit the Temple Academy page for more details.
For all enquiries please call Michael Whitby on T: 01628 824254 or email pro@templegolfclub.co.uk. We look forward to hearing from you.