Have you tried out our Swing Studio?
Our state-of-the-art Swing Studio is located in the Pro Shop giving every golfer the opportunity to get instant feedback on their game, their equipment as well as take lessons. Why not book to play one of the five American courses available on the simulator either on your own or with a group of friends?
Please find below details of the Swing Studio sessions that can be booked with either Head Pro Michael Whitby or Andrew Avann.
For all enquiries, please call Michael Whitby, on T: 01628 824 254, email pro@templegolfclub.co.uk or click on the 'Enquire' button below. We look forward to hearing from you.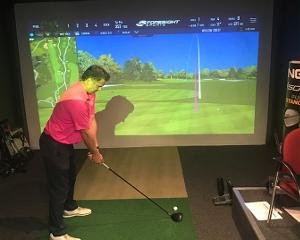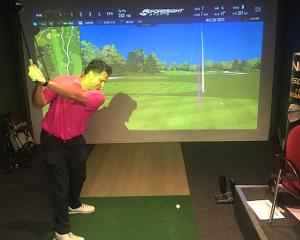 Coaching Lesson
One-hour lesson with Michael Whitby using high-speed filming and launch monitor data to identify areas for improvement including shot dispersion and distance control - £60 | £70 for Non-Members.
Practice Session
Using the simulator in driving range mode provides golfers a chance to check carry and total distance, shot dispersion, spin rates, club path and face data - 30 minutes (£15) | 60 minutes (£20).
Play golf on one of five American courses
Experience a round of golf, from tee to green, at either Blue Bayou, Broken Tree, Linfield National, Teton Pines and Willow Crest. This can be on your own or with up to three other players (four in total).
If you'd like to play one of these courses for a special occasion, it may be possible, with pre-booking, to arrange snacks and drinks to accompany the event - 1 hour £35 | 2 hours £60 | 3 hours £80.
Yardage Gapping Session
One hour session with Michael Whitby designed to measure the distance you can achieve with each club. This information will enable you to put together a correctly gapped set - £35.
Ball Fitting Session - 30-minute session with Michael Whitby
Ever wondered if you are playing with the most suitable golf ball for your game? We can arrange a simple ball fitting session to suit your particular emphasis e.g. are you looking for more distance from the tee or greater control around the green? - £20.
Click here to enquire for one of the above.